Fluffy Whipped Pancakes Recipe + 11 Sugar-Free Toppings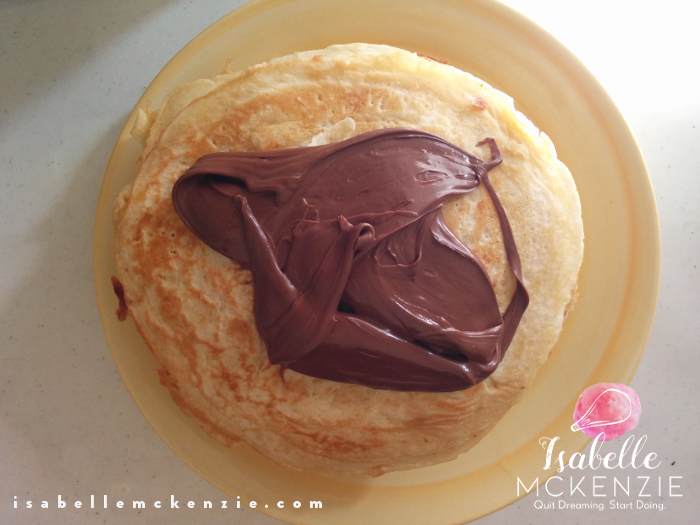 Super Fluffy & Tall Pancakes + 11 TASTY Sugar-FREE TOPPINGS
Here are the easy, super fluffy, tall, buttery pancakes that have quickly become a weekend staple in my house! Because no pancake breakfast is ever complete without a good trimming, I've included 11 of my favourite savoury and sweet sugar-free toppings - who said healthy can't be delicious?
Saturday morning in my house a sacred time.
Every weekend, I wake up an hour early to get started on the 'breakfast service' with my sister.
We don't eat 100% healthily as we have some extra carb, but it's not too bad in the scheme of things.
Always on the menu are butter biscuits, and I also make either pancakes or french toast on rotation, depending on what Sophia fancies.
Harrison (my older brother) makes coffee for the adults, and I also have the duty of making hot chocolate 'mochas' with whipped cream for the tots.
We break out the butter, spreads, and jams, and then sit, eat, and watch football (soccer for the Americans reading) for several following hours.
Sounds increíble, right? It is!
And it's a long-standing tradition, unchanged for the past few years, save one fact: we've started to eat sugar-free AS MUCH as possible in recent times.
Not because we have to, but because the more 'crunchy' we get, the less we enjoy as much sugar in our diet.
Not that we don't like dessert, but to us unless it's a special occasion it's simply not worth the side effects.
With all of that said, we still wanted our Saturday morning breakfast with all of the bells and whistles, which has mean't we've had to find new creative ways to top our biscuits and pancakes that wouldn't spike our insulin levels as much, if at all. 🥞 ≠ 🍬
So, this is why today I've gathered up my 11 of my top favourite condiments and sides to share with you.
They all taste great, and they all have 0 grams of added cane sugar.
That's right, zero, zilch, nada.
Also, as another little bonus I also want to share my recipe for SUPER FLUFFY, tall, and light pancakes. It's my #1 go-to, and a family-favourite all 'round.
The secret to their cloud-like texture is whipping the whole eggs before adding the rest of the liquid ingredients - the extra air in the batter allows them to fluff up quickly during cooking!
I've also included another 'egg-white' method for you guys to check out.
I haven't tried it yet, but I hear that whipping the egg whites separately from the rest of the batter will help make the pancakes even lighter!
If you give it a go please tag me @IzzieLM of Instagram or Twitter and let me know how it went, or post in the comments below!
Without further adieu, here is my fluffy whipped pancakes recipe and 11 sugar-free toppings!
Here are your 11 sugar-free toppings:
One of my addictions is Nutella (though, who doesn't love the stuff?), but considering the fact that nearly half of each jar is made of sugar it's obviously a big no-no! That's why I was so stoked when I found Nutilight's Hazelnut spread! This stuff is amazing - seriously - it tastes just like hazelnut and chocolate but WITHOUT containing any sugar! Drooling yet? You can find it here on amazon!
I know a lot of people complain about the taste of broccoli, but it's always been one of my favourite vegetables. In fact, one of my favourite ways to fill my pancakes is with cooked garlic broccoli and a spoonful of sour cream - perfecto! You can find an easy recipe for this broccoli on Genius Kitchen.
There's no classic pancake topping more well known and delicious than the humble lemon and powdered sugar combo. There's just something so good about that bittersweet tangy combo. The good news is that you can now have this topping even on a sugar free diet. Just use some Lakanto monkfruit powdered sweetener and a tablespoon of meyer lemon juice on the top of your pancakes to replicate this classic.
If you're looking for a crunchy nutty pancake topping, then perhaps granola is just the thing for you! My favourite brand is Wildway - they have a vareity of sugar-free flavours. Alternatively, you could make your own.
Healthy chocolate? Yes please! Check this sugar-free chocolate recipe the Little Pine blog here.
8. Whipped Cream
If you're not already sold on Lakanto powdered 'sugar' yet, then this whipped cream should convince you! All you need to do is add 1-2 Tbsp. of the sweetener to 1 cup of whipping cream, add a tsp. of vanilla and whip as usual! Voila!
This creamy vegan recipe is legit one of my favourite ways to eat Spinach. The pureed cauliflower gives the sauce an amazing creamy flavour of cream dairy free, and I love the addition of garlic (did I say I loved garlic?). Get the recipe from Serious Eats.
I think goat cheese naturally pairs well with pancakes, but the addition of the herbs add an extra savoury flavour that just feels a little bit more sophisticated. Oh, and it's DELISH! get the recipe for this topping from Fine Cooking.
Last but not least, we have the most classic pancake pairing: maple syrup! Didn't think you could have maple syrup without sugar? You thought wrong! This maple flavoured syrup might seem like a 'healthy food replacement', but it really does taste exactly like maple! Find it here. (p.s. I have not received any samples or compensation on any of Lankanto's products - I just love em'!)
So there you have it!
11 completely sugar free (and dare I say good for you) pancake toppings that actually taste good! If you have any suggestions or favourite pairings, let me know in the comments!
It just goes to show that you really don't have to compromise to flavour to improve your well-being!
Here's to an awesome Saturday morning,