Can You Have A Healthy (And Happy) Easter? Yes - Here's How!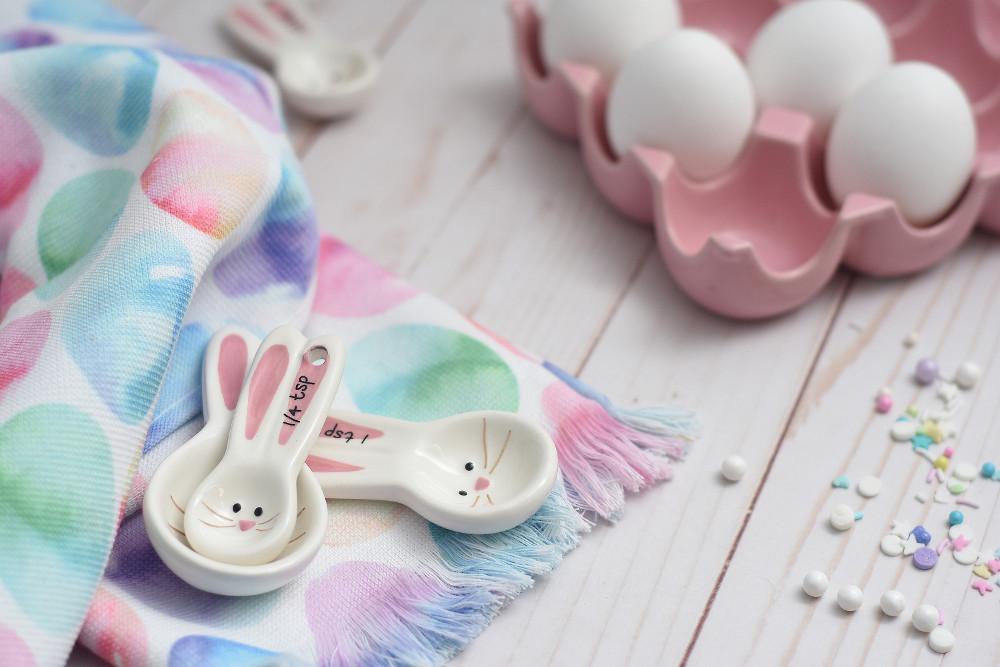 How You Can Have A Healthy (And Happy) Easter! + A Free After Easter Cleanse
Easter can be an easy time to let yourself overdo it on chocolate and rich pies, meats, and sandwiches. I mean, you're literally surrounded by foil wrapped bunnies for almost two whole months beforehand - hard to resist, right?
However, with the right tools and balance, it can actually be easy to incorporate your favourite seasonal treats into your diet while also avoiding the chocolate binge-fest and slight weight gain that can come with this pastel-coloured time of year. What are you waiting for? Let's get into how you can have a healthy (and happy) Easter - and spoiler alert, there may just be a free cleanse waiting for you too!
Easter… I absolutely LOVE Easter.
The smell of spring flowers🌷, the bright pastel colors, the sun dresses, the cute little bunny 🐇 and chick decorations 🐤, the lovely spring veggies🥕, the brunches, and of course, the CHOCOLATE EGGS.
Like most people, I have tons of sweet memories of little kid me with a basket full of yummy eggs, ready to be eaten!
The problem is… chocolate bunny rabbits aren't exactly healthy! 🍫 This means that as Easter approaches, the annual 'chocolate guilt' also begins to loom.
But don't fear. It doesn't have to be like that.
Now, obviously Easter is a holiday, and we all deserve a holiday full of things we can't normally enjoy everyday.
I always believe that a healthy life is about balance. So you can still treat yourself!
BUT, balance comes with trying to still be healthy and kind to your body, mind and soul no matter what the occasion. You don't want to accidentally go to crazy on a mad huge treat binge do you? Easter is a never ending parade of hot cross buns and Cadbury mini eggs 🥚 at supermarkets everywhere (NOT complaining though!), and it can be very easy to slip up if you're not careful.
If you can still enjoy yourself at Easter and be healthy it's a win-win situation that proves you can maintain a good balance all of the rest of the time. 🙏
Plus, Easter is also a good time to work on your sugar habit in general (if you have one).
**Cue personal story**
So a few years back I had a reliance on sugar (and a massive propensity toward sugar cravings), which hurt my health in big ways. It also triggered a pattern of destructive eating and self-sabotage.
This self-destructive behavior I had subconsciously started was due to some life changing events and a bad injury I had at the time, but I won't get into that now.
Before I knew it, I had gained over 30 pounds. 😲
I was devastated. I felt insecure, stuck, guilty, stressed, out-of-control and unhappy.
It was in that moment that I committed to changing up my diet, which included fighting my way to cutting out sugar… and most importantly, finding balance. ⚖️ It was a hard (like dude, reallllly hard), and long journey.
It all started with tons of research. I started sloughing through masses of information containing different ideas, methods, and lifestyle practices, and I began testing them on myself (well, and my family - the poor loves!).
Eventually, bingo!
I stuck with it and was able to distill what actually, really, really worked into one effective and proven plan, and I ended up to sharing it with the world. I turned it into my step-by-step systems on what to do if you want to cut your sugar addiction out of your life and get your control over your sugar cravings, a.k.a. my Cut The Sugar Program™! 😄
I now have an awesome balance with sugar - I can enjoy a sugary treat holiday (or an occasional frappe) and not have a single craving afterwards.
I now have complete control, and I couldn't be happier! This is why I really want you to be careful with the Easter Treats, especially if you have a bad sweet tooth and haven't tackled your sugar cravings. 🍨
You don't want over do it, gain weight, feel guilty, get angry at yourself and cause a spiral - you need to still think about your body, mind and soul when you decided to treat yourself.
Trust me: it is possible to enjoy the sweet and savoury side of Easter while also preventing weight gain and taking care of your body, mind and soul.
Even With that said, how exactly can you have a healthy Easter when it seems temptation waits around every corner?
Well, all you really need to do is adopt a healthy approach to your Easter routine & eating; there are plenty of guilt-free, indulgent (balance), Easter options that can boost health and offer a feel-good factor too.
So, like an Easter bunny, let's get hopping...🐰
It's a fact that public holidays = closed signs!
Public holidays are full of fun, but often times they mean we don't have access to our usual resources as the shops close. This means you should plan ahead.
What does this have to do with health, you may ask?
Well, basically, if you get caught short and don't have your fresh healthy foods on hand, you'll have to rely on readily available foods that might not be the best, like Easter sweet ham leftovers for dinner or a bag of chips as a snack.
Not really great for your waistline or your health. 🙅‍♀️
In order to make sure you aren't caught short and have to rely on foods which aren't good for your body, I suggest planning meals in advance making priority going to the grocery store and stocking up the fridge with healthy ingredients.
If you need a bit of help in getting started with proper planning, check out my FREE 'How to Use Lists & Calendars to ACTUALLY Get Stuff Done - RIGHT NOW' guide to get you going - download it here!
Easter Is On Easter… Keep It At Easter!
Easter goodies are everywhere around all kinds of shops WEEKS before Easter is even here, causing temptation week after week - even on regular shopping trips. 🛒
I'm guilty of this one.
When you see your fave brand of chocolate wrapped up in a cute bunny foil, you can't help but say "well, I'll have one just this once", but you gotta say "no".
You have to remember that the companies are just trying to get you to buy Easter treats early, because you're more likely to eat them early and then go back and buy them again. 🍴
This causes an endless chocolate buying cycle - I mean, how likely are you to want to hold out until Easter once you've already got a great taste for your favourite goodies? - great for the companies, but not so great for your waistline.
So please, for your health, try to keep the Easter chocolate eggies for Easter.
Getting them weeks and weeks before Easter will just encourage you to eat them.
Mmm, Easter Brunch… Wait, What Should You Eat At Meal Time?
I always say if you can make your favourite foods healthy while still enjoyable, then why not do it?
I know that Easter is a time for your favourite traditional brunch feast, but if you can make any of your recipes even a tad bit healthier, then I say go for it! 🍲
Every little change counts.
This will help you to stay healthier and to eat less calories, and by eating better choices at meal time, you won't get that nasty full lethargic feeling you normally get. Also, you'll also suffer less from cravings as you'll feel fuller from the healthier, more fiber-filled, vitamin rich foods.
Actually, to help you with this I've researched and tested some great healthy dish swap-outs for Easter dinner that still taste just as good, but with great-for-you benefits.
I'm vegetarian, but I've still included meat-based Easter dinners for you - 🥩 approved by some of my carnivore friends & vegan dishes of course.
It's called my 'Make Your Easter Healthy and Delicious: 21+ Easter Brunch & Dessert Recipes' guide, and it has 21+ traditional and non-traditonal Easter recipes, with variations friendly for vegans, vegetarian, and meat-eaters alike + bonus Easter treat recipes for recreating all of your favourite Easter desserts at home with better-for-you ingredients!
I LOVE Chocolate Eggs… What Should I Do About Sugary Easter Treats?
It doesn't matter how many chocolate eggs, rabbits, chicks or boxes of yummy chocolate you receive at Easter - you need to set yourself a limit.
Eat with mindful thinking.
If you need an idea of how much to limit yourself to per day, I'd say between 20 and 60g of chocolate would be a reasonable portion size, but you can go up to 100g at MOST (or about 1/3 of a smaller chocolate bunny).
2. The Darker Thy' Chocolate, The Better
Your chocolate-y goodness can be healthy?
Yep, Easter eggs can have health benefits… all you have to do is go for dark chocolate.
Dark chocolate, particularly anything over 70% cocoa, can actually be good for your heart - yippee! - and there are even studies that have shown moderate dark chocolate consumption can actually aid weight loss due to flavonoids, which act as powerful antioxidants and lower blood pressure.
So, this Easter, try to opt for darker chocolate goodness and remember moderation is still key.
3. Choose Fair Trade!
Why not combine a serious feel-good factor with the health benefits of dark chocolate?
When choosing your dark chocolate Easter chocolate goodies, opt for Certified Fair trade.
Yup, I know this isn't exactly to do with your health, but fair trade chocolate has real feel-good factor and it tends to be made from purer ingredients.
Certified Fair trade chocolate comes from farmers who have been paid a fair price, meaning that they don't use child labor, and that they support schools and hospitals in the communities where the cocoa was grown.
Choosing Fair trade Easter goodies is simply a delicious way of helping others.
4. Simply Make Your Own CHOCOLATE
For those of you who love to bake and cook (like me ✋), there is nothing better than cooking and baking at a holiday, so why not enjoy chocolate eggs you have made yourself this year?
You know exactly what you're putting in your chocolate goodies and you get the fun experience of making and decorating your chocolate at Easter.
This means you can make your chocolate as healthy as you want it.
You can even try my super healthy bonus recipes for Easter eggs using nutritious super-food ingredients - check them out in my 'Make Your Easter Healthy and Delicious: 21+ Easter Brunch & Dessert Recipes' guide!
5. Substitute It Y'all
Instead of eating your normal large portion of Easter brunch and boat loads of chocolate treats, try cutting down on the brunch to make room for the chocolate.
It might be a difficult to fully balance out your sugary treats, but it is possible to allow some extra calories for them. Try reducing the size of your brunch/lunch portion, eating more salad than ham, or skipping your morning mocha.
Or, you could try and make your favorite Easter sweets and snacks a little bit healthier with clever swaps.
Many of the store-bought Easter goodies we have grown up and loved over the years are just super crazy high in fat and sugar. Milk Chocolate-Covered Peeps? One serving (28-grams) of this milk chocolate-covered chick has 110 calories, 3 grams of fat, 20 grams of carbs, 14 grams of sugar, and there's only 1 gram of protein.
Whoah.
To make it all worse, classic Easter treats tend to be full with additives - forget it! 😐
These suggestions are much healthier swaps to our childhood Easter treats:
Instead of: Milk Chocolate Easter Bunny
Try: 1 cup popcorn + 1/4 cup UnReal Milk Chocolate Gems
Of course you don't have to avoid completely that classic chocolate flavour you get from a milk chocolate Easter bunny - simply combine my fave M&M replacement (no additives, organic, fair-trade and less sugar) UnReal Milk Chocolate Gem's with popcorn for a salty-sweet snack that's way healthier than the traditional chocolate bunny, but with just as much chocolate flavour!
Instead of: Cadbury Creme Eggs
Try: 1 cup Dannon All Natural Plain Yogurt + 3 teaspoon lemon curd + dark chocolate chips
Make your own creamy yogurt "cadbury egg" at home.
Go for full-fat yogurt plain sugar-free yogurt (I love Dannon All Natural Plain Yogurt), dark chocolate chips, and lemon curd - I usually make my own but you can find it in a grocery store (I suggest Bonne Maman Lemon Curd, this is the brand I use when I'm not in the mood for baking).
Instead of: Reese's Peanut Butter Egg
Try: My Healthy Chocolate-and-Peanut Butter Eggs
Chocolate and peanut butter is a lovely combo (even I like it and I hate peanut butter), but Reese's Easter candy is a massive sugar bomb that's full of artificial flavors and preservatives.
This is why you should just simply make your own at home.
Yes, you read that right - you can totally DIY your chocolate peanut butter Easter eggs!
Actually, I share my favourite recipe for delicious copycat Reeses Easter eggs that are also HEALTHY in my Make Your Easter Healthy and Delicious: 21+ Easter Brunch & Dessert Recipes guide here! This recipe is a creamy delicious combination of dark chocolate and peanut butter, is low in saturated fat, and is full of protein.
Instead of: Marshmallow Peeps
Try: Healthy Paleo Friendly Raspberry Marshmallow Peeps (+ 1 tablespoon of Easter sprinkles!)
Those vibrantly-colored marshmallow chicks evoke so much nostalgia, but are as artificial as can be.
They're practically made from only sugar.
Theses homemade Peeps are sugar free, super yummy and gooey, and contain no additives.
Instead of: Easter Jellybeans
Try: Apple or Berry Fruit Leather or Surf Sweets Organic Jelly Beans
Even though they taste great, sugar adds up quickly when you're mindlessly chewing on jellybeans.
For a chewy Easter snack you can enjoy with a big fruity flavour, opt for your own homemade fruit leather - so yum! 🤤 I have a recipe that is naturally-sweet that's really easy to make in my 'Make Your Easter Healthy and Delicious: 21+ Easter Brunch & Dessert Recipes' guide!
However, if you can't give up real jellybeans, try Surf Sweets Organic Jelly Beans - they are organic, contain less sugar, and are made from more natural ingredients. Oh, and they're just as tasty!
Celebration Time Is Here… What To Do On The Easter Celebration!
Start Your Day Off Right
Over Easter I want you to keep with your usual breakfast routine and make sure you include good fats and protein at breakfast. The good fats will stabilize your appetite, help keep your energy in check, reducing cravings during the day.
Some good nutrient-rich options for breakfast include eggs, yoghurt, ricotta, cottage cheese and nuts.
Keeping up your healthy morning routines will also help you help keep your energy in check and keep your body and metabolism moving. If you need some inspiration for your morning routine, check out my blog on My Favourite Morning Habits for Happy Weight-Loss!
Practice Moderation
It goes without saying – moderation is key.
Easter doesn't mean your usual portion control should go out of the window! All foods are, in a way, okay in moderation - yup, even those 'junky foods' - so Easter is the perfect time to put moderation to practice.
Make your sweets a part of your balanced diet.
Try pretending you're a chef, and plan to savour the taste of your chocolates over the Easter period instead of trying to cram down everything you can during your 'flexible eating' period.
Because you are having chocolaty treats alongside your usual food it is a great idea to slightly reduce your portion size. This will help to reduce your calorie consumption, and allow you to enjoy your chocolate even more. Simply add in an Easter treat after a smaller dinner or as a snack.
Just remember, one treat won't undo your hard work, and you don't have to write off the entire day as a losx when you have one.
I Like To Move It Move It… Get Moving Daily 🕺
Keeping up with your exercise over Easter is super important.
It can be easy to miss a workout when everyone is together celebrating and indulging in off the menu foods, but please try to make the time for a quick workout - it doesn't have to be anything crazy!
Exercise is great at keeping the mind clear, fighting off lethargy, helping with calorie burn, and increasing energy.
Around a holiday (like Easter) I suggest you choose a type of movement that you enjoy, and that doesn't seem like an exercise based chore. This will help you keep that holiday feeling going and will help keep you encouraged to remain active during the fun. 😅
Also, a great idea is to plan your Easter social events around your movement; perhaps you could get up a bit earlier to go for a spring walk before breakfast, hula hoop and jump-rope in the wonderful spring air, play a game of volleyball, get one of your family members to do a 15 minute HIIT workout with you, or go hiking with a group of family and friends.
There's always time for a workout.
A bonus tip: exercising in the morning will help improve your food choices throughout the day.
Flip Yo' Guilt
Yes, you should practice moderation, but you should also let go of the guilt around food. Feeling guilty will only create stress and trigger a negative relationship with eating.
Get a chocolate egg and take your time with eating it. Make it a real treat and commit to feeling confident with the fact that your body can handle a couple of yummy treats over Easter.
After all, you are entitled to some occasional food indulgence.
For many people, Easter is a fun a time to get together with family and friends, and whether you're sharing in the celebration of Jesus' life or not, Easter is a precious time that doesn't come around every week.
Letting yourself off the wagon a lil'bit is okay during Easter weekend as you're back to your healthy habits on Tuesday.
If you struggle with this one, I recommend you start working with the practice of mindfulness to help nurture a healthy relationship with food.
If you're not already familiar with it, mindfulness is a practice that involves being fully focused on the present moment and bringing awareness to your thoughts and feelings (if you want to read more into how mindfulness works, check out this blog post).
Mindfulness has even been shown to enhance weight loss and promote healthy eating habits.
After you finish it mindfulness will start to become like second nature, and your health goals will become easier to achieve!
Have Fun And Do Something Different
Take the emphasis off food. Focusing on other fun activities will make it way easier to take yourself away from eating chocolate rabbits.
Really focus on spending time walking, playing with the dogs, painting designs on eggs, playing board games with the family, hula-hooping and jump-roping with your family kids.
You could even try do some exercise-based activities together with friends and family.
Do some fun feel good activities like treating the spring birds with a birdseed, give money to charity instead of spending it on Easter chocolate, visit a spring flower farm, or buy/bake some Easter treats to donate to a food-bank.
Dinner Is Ready! What To Do During Meal Time
Eat up the good stuff first.
If you eat the vegetables items on your brunch table first your body will receive nutrients to keep your body running at its peak. You'll also create less room in your stomach for the carb-heavy sides and chocolate treats as vegetables are richer and full of fiber that keeps you fuller, longer.
All of this may help to decrease your chocolate consumption!
Focus On The Good Bits
Roast lamb, boiled eggs and fresh spring fruit and vegetables are all traditional Easter foods that won't make as big an impact on your waistline.
So when eating really focus on eating the healthiest choices instead that you love, like the berry parfait instead of the chocolate tart!
Don't Over Do It!
Try to choose the smaller yummy choices on your dinner table, making it easier for you to control your consumption and your calorie intake.
If you take a couple of days after your Easter holiday to cleanse, you'll find it much easier to get back on track.
After a holiday, your body and mind are not ready to abruptly go back to your normal routine.
You're all partied out and you've got into temporary bad habits – and that's okay, it is Easter.
But this does mean that what you need to do is quickly cleanse yourself in the week after - a mind and body cleanse is the perfect way to get your head in the game so to speak.
However, if you have no idea how to start cleansing, I've got you covered!
I actually have a 5-Day FREE Food & Body Cleanse Challenge you can join!
The goal of the challenge?
To have you feeling energized, restored, as well as to reboot your mind with amazing strategies, taste buds, and overall lifestyle changes so that you'll be ready for anything!
There will be a cleansing food plan crafted to fill your body with the most nourishing, delicious foods to reset your cravings. And bonus? It''ll kick start weight loss (bye bye – holiday pounds) and it'll help you become naturally energized so that you have the energy for your goals.
Also, we'll work together on positive mindsets and daily routines to reboot your mind.
It's a total body, mind renewal – perfect for giving your body some extra TLC and increasing vitality.
Bye Y'all, Summing It Up...
That's it! I really want you to avoid the dreaded holiday weight gain, so I really hope you follow along with my advice. I promise if you do, you will have the healthiest Easter possible while still enjoying what you love!
Stick to your usual slightly moderated diet and exercise regime and add a bit of chocolate in moderation. Choose dark chocolate and don't forget to fill up on veggies. During the Easter celebration, do more fun non-food related activities, remember to make healthier choices first and use my yummy healthier Easter dinner food swap-out recipes to keep you on track.
Oh, and don't forget to download the FREE 'Make Your Easter Healthy and Delicious: 21+ Easter Brunch & Dessert Recipes' guide here.
It contains 21+ Traditional and non-traditonal Easter recipes, with variations friendly for vegans, vegetarian, and meat-eaters alike + bonus Easter treat recipes for recreating all of your favourite Easter desserts at home with better-for-you ingredients.
Don't view Easter as an excuse for an all-out chocolate binge session.
Follow these tips and you'll be able to avoid weight gain and stay healthy over Easter!
That's it from me, happy Easter,